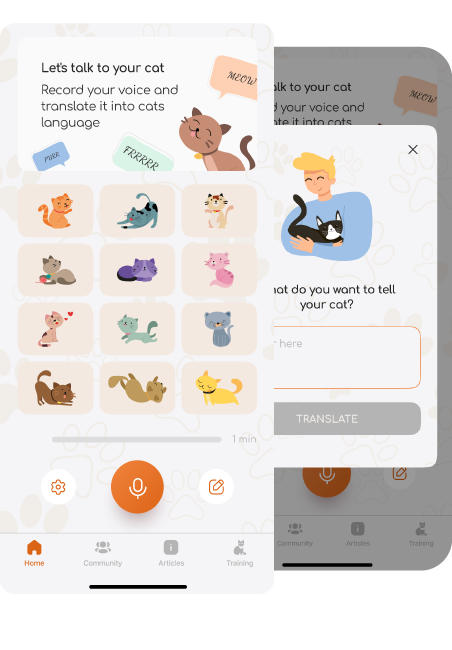 Grab Your Pet's Attention & Interact with Them in Their Language
Cat Translator is a perfect platform that gives cat owners the ability for understanding their cat's needs, enabling them to create an event-rich timeline for each of their cats.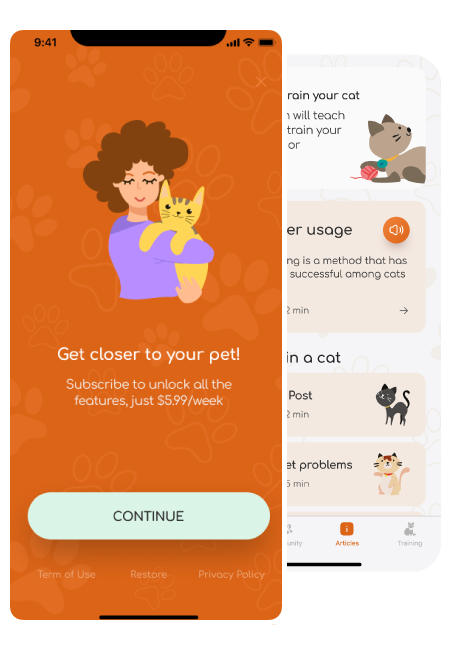 Human-To-Cat Translation Communicate More Efficiently
Angry, happy, in love, worried, and more! Translate your emotions into meows and get reactions from your pet. Emulate cat voices and enjoy a new level of human-to-cat interaction.
Have a Joyful Discussion with Your Pet
If you've ever wondered what your cat was trying to tell you when it meowed. Our app has a variety of kitten voices for amusing cat chat if you're having trouble getting your cat to play. Try to identify the differences between the many cat meows in an easy way.
Check-Out Our Amazing Features
Multiple features that help to communicate with your cat easily
Translation Between Humans & Cats
Every cat has a specific vocabulary to constantly communicate with its owners in the same condition. But begin, as cat owners, we cannot understand cats' behavior always. So to maintain this gap, we build the Cat Translator app to understand your cats better. Our goal is to help boost the bond between cats and humans by giving them a voice. Owners may now understand what their cats are attempting to communicate by translating their meows with our Cat Language Translator App, enabling them to meet their needs better.
Benefits of Using Cat Translator & Meowtalk:
There are lots of benefits that we've collected here
Reviews
Our Happy Users Reviews
I would like to say that everyone that says this app is horrible is wrong. Also, there's an x that's hard to see if you find yourself on the subscription page. I use this for my cat training and it's great! Thanks for making this app.
I absolutely recommend it
It's awesome! All of the sounds work! really impressed with this app. 🤩 🤩
Works
My cat loves it. Really helpful to understand my cat's mood. 🤗 🤗
Amazing!
I use this app daily to understand my cat's mood, 3 cats and I always fall for it! My favorite app for my furry babies 🥰
Fantastic app!
I tried lots of apps but my cat didn't respond when I started using this app my cat really respond to it. Great app! 🤞 👏